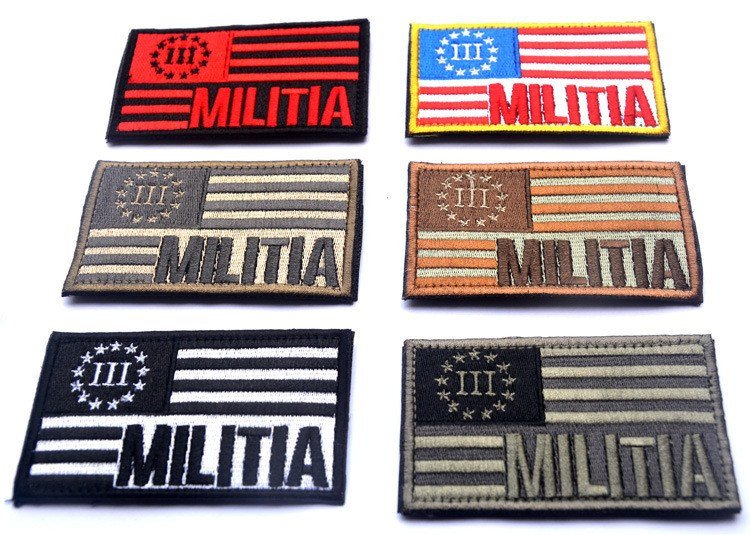 In the wake of a tragic stabbing attack that left two dead and a third man hospitalized with a cut throat, a Republican leader in Portland has called for private militia bodyguards. This is something that we have predicted since December when we reported on a concern voiced by the father of a man who recently left The Secret Service.
Here is my recollection of our discussion:
"…I feel it important to mention a conversation I had with a man last week. He said his son had been a Secret Service agent who had recently left the service, took a pay cut and became a fireman.
"He saw the writing on the wall and got out before the election".
Me: Well what does he think about Trump?
"He believes that the various militia groups may be used by Trump as street enforcers"
Me: Like the storm troopers in Germany? The S.A.?
"Absolutely, and I'm worried about it too".
—————————————
On Friday May 26 in Portland, a mentally disturbed man with a criminal history stabbed three people who were defending two teenage girls. One girl wore a headscarf suggesting she was Muslim, and the attacker was known in alt-right groups though his politics were all over the map. The vicious attack happened very quickly, resulting in at least two men getting their throats cut. Two died in the attack.
As these attacks escalate we recognize that Trump's authoritarian presence at campaign rally's, encouraging his supporters to threaten and beat opposition protesters has resulted in increased right-wing thuggery.
Ironically, the Republican reaction to the Portland stabbings has not been condemnation of violence, but instead playing the role of victim. Here are some details from an article in The Guardian:
Portland Republican says party should use militia groups after racial attack
County GOP chair James Buchal says security forces may be appropriate as tensions rise after two people died in a racial attack on public transport
https://www.theguardian.com/us-news/2017/may/29/portland-attack-republican-james-buchal-militia-groups?CMP=share_btn_tw
(excerpts)
"As tensions continue in Portland following the racially charged murder of two men on Friday, the top Republican in the city said he is considering using militia groups as security for public events.
Taliesin Myrddin Namkai-Meche, 23, and Rick Best, 53, were stabbed to death and 21-year-old student Micah David-Cole Fletcher was injured when they came to the aid of two women being subjected to hate speech on public transport. The suspect, Jeremy Christian, 35, was found to hold white supremacist views and to have attended an "alt-right" rally in the city.
*
Multnomah County GOP chair James Buchal, however, told the Guardian that recent street protests had prompted Portland Republicans to consider alternatives to "abandoning the public square".
"I am sort of evolving to the point where I think that it is appropriate for Republicans to continue to go out there," he said. "And if they need to have a security force protecting them, that's an appropriate thing too."
Asked if this meant Republicans making their own security arrangements rather than relying on city or state generic clonazepam identification police, Buchal said: "Yeah. And there are these people arising, like the Oath Keepers and the Three Percenters."
Asked if he was considering such groups as security providers, Buchal said: "Yeah. We're thinking about that. Because there are now belligerent, unstable people who are convinced that Republicans are like Nazis."
*
Buchal ran for Oregon attorney general in 2012 and has stood for election to Congress and the state legislature. The Oath Keepers are described by the Southern Poverty Law Center as "one of the largest radical antigovernment groups in the US", recruiting current and former military and law enforcement personnel. They have recently appeared at rallies from Berkeley, California, to Boston, standing with activists from the far right, activists holding what were once fringe positions who have recently risen to national prominence.
The Three Percenters are described by Political Research Associates as "a paramilitary group that pledges armed resistance against attempts to restrict private gun ownership". They were a highly visible presence in Burns, Oregon, before and during the occupation of the Malheur wildlife refuge by rightwing militia early in 2016.
*
Buchal appears to have made radical statements in the past. Portland reporter Corey Pein surfaced a video of Buchal addressing a Multnomah County Republican central committee meeting.
The video depicts Buchal making a fiery pro-Trump speech. He says of the president: "His enemies are my enemies and his enemies are all our enemies."
"Our enemies are more dangerous than ever," he continues. "We are really in a life and death battle for the future of our society. And these globalist people are not going to give up."
*
Spencer Sunshine, an associate researcher at Political Research Associates who last year co-authored a major report on the growth of the far-right Patriot Movement in Oregon, said: "The Oath Keepers have been acting as a de facto security team for white supremacists and neo-Nazis for the last month or two.
"The Three Percenters have no accountability and are implicitly a deeply racist group, and sometimes have explicitly racist members. They have no interest in screening those explicit racists out.
"Consideration of the use of unaccountable, private paramilitary groups by one of the main political parties is a dangerous lurch to the far right."
———————————————————–
As it stands, Portland appears to be a focal point for potential street-fights between the far-right and the antifascist left, referred to as "Antifa". The reality of this potential clash is that the right-wing has been arming up and preparing for this for years. Armed militia members have been spoiling for a fight since they held armed stand-offs against Federal agents at the Bundy Ranch and at a wildlife refuge in Oregon. If and when Republicans begin using armed private militia as bodyguards, it will present a complex problem for local police agencies who have tried to mediate between activist groups on both left and right.
What could possibly go wrong?