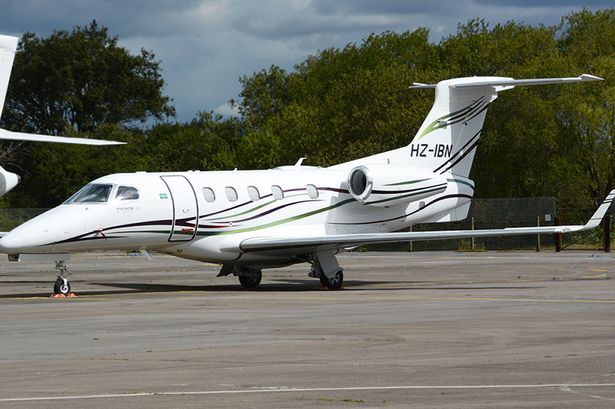 Reports are coming in that a plane carrying members of the Bin Laden family has had an unusual crash, killing all on board. From Sputnik News: http://sputniknews.com/art_living/20150801/1025285669.html
(excerpts)
"A plane crash at a car auction in Hampshire England has left four dead. The tragedy is made all the more eerie by the fact the aircraft involved was a private jet owned by the family of Osama bin Laden.
Osama bin Laden's stepmother, half-sister and her husband have reportedly died in a plane crash in Hampshire, southern England, along with the aircraft's pilot, The Guardian reports.
The newspaper said on Saturday that the Saudi ambassador to Great Britain has offered condolences to the bin Laden family on Twitter, however, the identities of Hampshire plane crash victims have not been confirmed.
The Guardian added that the Saudi embassy was working with the British authorities to investigate the accident, which involved a business jet that was reportedly registered to a company owned by the bin Laden family.
Earlier it was reported that while trying to land at Blackbushe Airport, roughly 40 miles southeast of London, a light aircraft overshot the runway and "went up into a ball of flames" in a nearby parking lot."
"According to authorities, all four people onboard the Embraer Phenom 300 – one pilot and three passengers – were killed.
"Sadly, there were no survivors," acting chief inspector Olga Venner told reporters, adding that "no one on the ground has been injured."
Authorities identified the jet as belonging to Salem Aviation, a Saudi company based in Jeddah, which is owned by the family of Osama bin Laden. The jet was en route from Milan, where the Bin Ladens also have business interests.
"Salem Aviation was named for Osama Bin Laden's brother, who was killed in separate plane crash in San Antonio, Texas in 1988."
——————————————————-
The Mirror (UK) adds more detail: http://www.mirror.co.uk/news/uk-news/pilot-questions-bin-laden-plane-6180193
"The plane crash that claimed the lives of three members of Osama bin Laden's family has been questioned by a pilot who uses the same airstrip.
Simon Moores regularly flies into Blackbushe Airport in Hampshire and has said the horrific crash "doesn't make sense".
————————————-
The articles suggest that this advanced-model jet had safety devices to prevent just such a crash, other sites suggest the plane was decending far to quickly.
It begs the question as to if people close to Osama Bin Laden who were able to identify if a body-double may have existed are being knocked-off. Journalist Seymour Hersh wrote a blockbuster report that The Obama administration lied their ass off about the raid that supposedly killed Bin Laden. The report states that the Saudi's financed Bin Laden's stay in a Pakistani compound and that Pakistani intelligence knew where he was all the time. Further, Bin Laden was not buried at sea, but his body parts were thrown from the escape helicopter over the Hindu Kush. Here's an excerpt from Hersh's stunning article:
"The retired official said there had been another complication: some members of the Seal team had bragged to colleagues and others that they had torn bin Laden's body to pieces with rifle fire. The remains, including his head, which had only a few bullet holes in it, were thrown into a body bag and, during the helicopter flight back to Jalalabad, some body parts were tossed out over the Hindu Kush mountains – or so the Seals claimed. At the time, the retired official said, the Seals did not think their mission would be made public by Obama within a few hours: 'If the president had gone ahead with the cover story, there would have been no need to have a funeral within hours of the killing. Once the cover story was blown, and the death was made public, the White House had a serious "Where's the body?" problem. The world knew US forces had killed bin Laden in Abbottabad. Panic city. What to do? We need a "functional body" because we have to be able to say we identified bin Laden via a DNA analysis. It would be navy officers who came up with the "burial at sea" idea. Perfect. No body. Honourable burial following sharia law. Burial is made public in great detail, but Freedom of Information documents confirming the burial are denied for reasons of "national security". It's the classic unravelling of a poorly constructed cover story – it solves an immediate problem but, given the slightest inspection, there is no back-up support. There never was a plan, initially, to take the body to sea, and no burial of bin Laden at sea took place.' The retired official said that if the Seals' first accounts are to be believed, there wouldn't have been much left of bin Laden to put into the sea in any case."
In this hall of mirrors, we don't even know if they got Bin Laden, or if it was one of his rumored doubles. Perhaps that's why somebody is killing off the Bin Ladens. For more information, read Hersh's article here:
http://www.lrb.co.uk/v37/n10/seymour-m-hersh/the-killing-of-osama-bin-laden