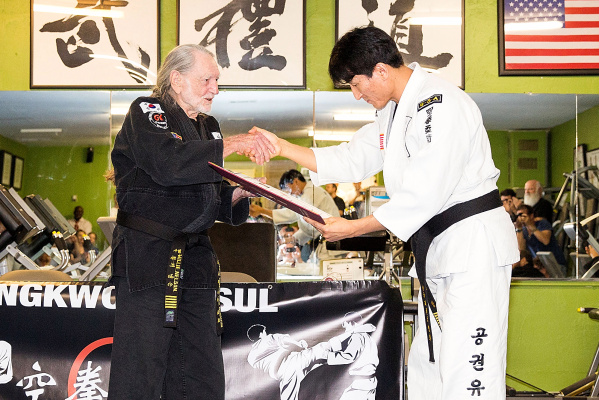 Well, well, well; Here's living proof to reassure me that smoking weed and playing guitar will indeed keep me young – Willie Nelson was awarded his 5th degree Black Belt at age 81.
Those of us who have been in the martial arts for quite a while know that most Dan rankings are ceremonial starting around 5th Dan, with emphasis put on teaching, attendance and commitment to the art. It's also refreshing to see a traditional Korean Karate system expand into the mixed-martial art phase, something that will allow traditional arts retain interested students. Those who followed the original Dojo Rat blog (which began in 2006) will remember I have strong criticisms of the way modern mixed-martial arts are presented. There's a lot to be said about traditional systems, with the cultural trappings, uniform, rank and sense of community with members. These features are sorely lacking in modern pugilism. With that said, modern fighting styles, based on boxing and wrestling have taken traditional arts to the cleaners. Here we see the school Nelson is attending attempts to blend the best of both styles, and that goes a long way to keeping an old art alive.
Here's the article on Nelson from Page Six, NYPost.com:
AUSTIN, Texas — Some advice for when Willie Nelson slides off his sneakers personalized with the word "Texas": Don't mess with him.
The country music icon who turns 81 this week received his fifth-degree black belt in the martial art of Gong Kwon Yu Sul on Monday night, parking his tour bus outside the Austin studio of his instructor who began teaching him two decades ago.
Nelson didn't show off his chops but Grand Master Sam Um assured a packed room that the "Red Headed Stranger" could hold his own against anyone. As is typically the case wherever Nelson goes, other celebrities were close: this time Austin resident Lance Armstrong tiptoed past parents of other students to see his fellow Texan honored.
"Honestly, I was surprised to be getting this degree," Nelson said on his bus before the ceremony. "I don't know what else is out there. I never thought about anything beyond second-degree black belt."
Nelson's birthday is Wednesday — though he's claimed before that the date is really April 29, a day earlier. He said a doctor gave him a clean bill of health earlier Monday during an annual exam.
The singer gives martial arts a lot of credit for that. Although off stage he's more famously known for more mellow interests — like smoking pot — Nelson said he stays physical whenever possible. He's also a runner and avid bike rider.
"I'm pretty healthy at 81. I think a lot of it has to do with the exercise that you do," Nelson said. "I think martial arts is one of the best exercises you can do. Mentally, spiritually, physically, everything. I'm sure that's helped."
Nelson cinched his black belt — personalized with his name — around a black robe and wore his signature braids behind his head. It was a more low-key affair than usual for the lionized singer: Just this past weekend, Oscar winner and fellow Texan Matthew McConaughey inducted Nelson into the Austin City Limits Hall of Fame at a blowout concert.
When Nelson initially showed up to his studio, Um said he worried about the musician's heart because of his age. Then the instructor got a glimpse of his lifestyle over the next 20 years.
"He has more stamina than I do," Um said.
(Hat tip to Mr.B at Striking Thoughts)