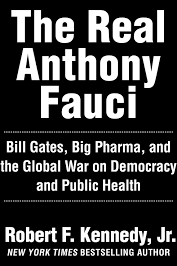 Honestly, this is a difficult review for me to write.
This book, "The Real Anthony Fauci", by Robert Kennedy Jr. is a dose of "forbidden knowledge".
 
This is the book the establishment does not want you to read. As proof, they have done everything they can to shore up support for Dr. Fauci and his partner in crime Bill Gates, as well as discredit and tear down the messenger Kennedy.
 
This book has brought all kinds of trouble my way – by fueling debates and seeding the dark questions about Big Pharma and the private foundations that partner with them.
I even had to take off the book jacket and store it away until I finished the book. It just drew too many eyes in public, so I spared myself from entertaining angry strangers or friends that would never cross into this complex territory.
 
This book is tied with Lisa Pease's "A Lie Too Big To Fail" (coincidentally about the assassination of Robert Kennedy senior) for the most footnoted and margin-noted book I have written in. One has to write notes in it, to return to and puzzle over later.
At the end of each chapter, Kennedy includes page after page of reference notes for confirmation and further research.
 
After posting quotes from the book on Twitter, I was scolded by a very famous investigative journalist for trusting the end-notes and links.
I did however, cross-reference the ones I found of interest.
While Kennedy's end-notes do occasionally daisy-chain back to his own website, nearly all references go back to other authors and scientific studies. I am well satisfied with the source material, and if occasionally it derives from a right-wing source that does not mean it is not correct.
 
Kennedy does not just tread on Dr. Fauci. He goes after Fauci's partner in crime Bill Gates as well as the supposed regulatory and public health agencies.
He exposes the immense corruption and the sweeping under the rug of some of the nastiest game plans of Big Pharma, the foundations that have found wealth in vaccine production, the intelligence agencies that plan for plagues, and the dumping of expired or failed medicine in the third world.
 
Every turn of the page cites another outrage, another failed public hero, another creepy suggestion of collusion and conspiracy to defraud the public. The health-industrial complex is being tweaked to steer public opinion and alter our common lives in ways which we can only imagine. The end game is not clear at this time, but the transition is occurring at this very moment.
Let's take a look at various chapters in this book:
1. Mismanaging a Pandemic-
(How re-purposing existing, working medicines was not allowed so that new vaccines could get emergency use authorization. Therefore, there was no pre-hospitalization treatment for Covid)
2. Pharma Profits over Public Health
3. The HIV Pandemic Template for Pharma Profiteering (Also designed by Dr, Fauci)
4. The Pandemic Template: AIDS and AZT
5. The HIV Heresies
6. Burning The HIV Heretics
7. Dr. Fauci, Mr. Hyde: NIAID's Barbaric and illegal Experiments on Children
8. White Mischief: Dr. Fauci's African Atrocities
9. The White Man's Burden
10. More Harm Than Good
11. Hyping Phony Epidemics: "Crying Wolf"
12. Germ Games
The striking, sometimes shocking examples given in the various chapters culminate in chapter 12, "Germ Games".
In Germ Games, Kennedy describes how the Department of Defense and CIA ran dozens of war games to determine how to condition the public during a Pandemic.
In this chapter we learn the history of Bioweapons and the birth of Biosecurity, funded by Fauci through the NIH and NIAID, the Johns Hopkins Center, and the Gates Foundation.
Kennedy names names all through the book, in this case people like Bioweapons expert Dr. Robert Kadlec and CIA official (and Pharma lobbyist) Tara O'Toole.
Chapter 12, "Germ Games" is worth the price of the entire book.
After reading this, along with the end notes, one can not help but think this current version of plague has been planned out years ago, only to be recently fine-tuned. It will probably take twenty years to find out what was actually going on, and when that time comes, this book will surely be seen as breakthrough material.
Please get a copy of "The Real Anthony Fauci", by Robert Kennedy Jr.
Then, get ready to challenge the establishment narrative on Covid origins and the possible end-game we are staggering towards.
John Titus
Covert Book Report
Below: Kennedy has page after page of reference notes at the end of each chapter