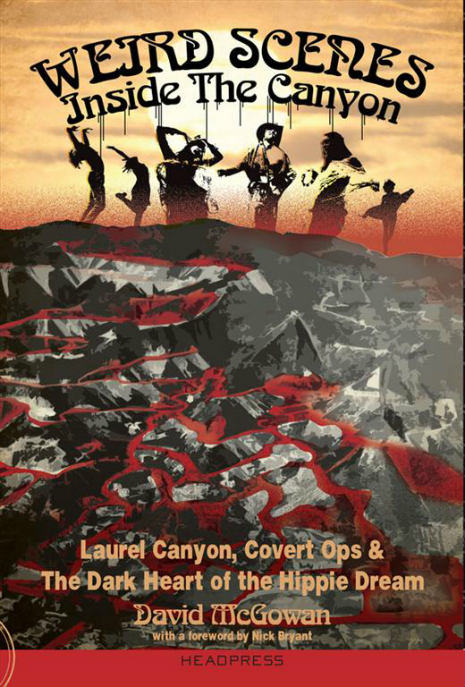 "Weird Scenes Inside The Canyon" by Dave McGowan has been a long time coming, as it was serialized first on the internet as Dave collected information and worked out the bugs. The intriguing subtitle is "Laurel Canyon, Covert Ops & The Dark Heart of the Hippie Dream", eluding to a time of change in the youth and music culture that may not have been so "organic" and may have been engineered.
McGowen walks us through the lives of rock stars such as Jim Morrison, David Crosby, Steven Stills, Frank Zappa and others that have direct family ties to the U.S. intelligence services.
In this wild and well-researched romp, Laurel Canyon itself becomes both actor and stage for the drug-fueled communal yet confrontational existence of the actors, musicians and criminals that infest the hillsides. Mcgowan busts some myths about the competence of the musicians (Crosby, for instance could barely play guitar) and introduces us to characters I never knew about. These include the original freaks; Vito Paulekas, his wife Szou and sidekick Carl Franzoni. They practically patented the entire hippie-as-freak scene, down to the gypsy clothing and wild gyrating dance scenes. This sideshow was a welcome accompanying to the stage music, which was still on training wheels.
But it wasn't all fun and games; the dark heart of Laurel Canyon also brings us the murderous intent of Charles Manson and his "family", who quickly embedded themselves like ticks draining the lifeblood of various wealthy actors and musicians. Most people don't know that Manson was talented enough to almost get signed to record labels, and was considered to be a near genius by the likes of Neil Young and others. McGowan reminds us that for a decade or so California was ground zero for serial killers, which triangulates neatly in the shadow of intelligence agencies and apparent widespread incest allegedly practiced by what seems to be the entire population of the canyon.
I myself loved the tale of Laurel Canyon as told by McGowan, but some details may offend sensitive readers. It also makes one wonder what the surviving members of those canyon years will think of McGowan's interpretation (Moon Zappa, among others). No lawsuits yet, I hope.
I would only have two items to suggest that would have made the book more useful, if not readable. I want to see footnotes when possible, and while McGowan provides a bibliography of articles, books and videos it is impossible to follow a paper trail for further research or reference material. Secondly, while McGowan draws heavily from his previous book on serial killers "Programmed To Kill", the book ends on a dark note – which may be altogether appropriate.
But just for the sake of "the good times" it would have been nice to steer the tour bus back to the music and the freaks.
"Weird Scenes Inside The Canyon" was a great read, and I'm sure it will echo in the memories (or nightmares) of the people who lived, played or died there.