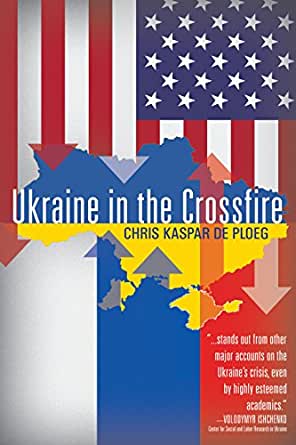 I was very pleased to get a copy of "Ukraine In The Crossfire", by Chris Kaspar De Ploeg.
This book catalogs the rise of the nationalist far-right Nazis in Ukraine, as well as their well known WW 2 history.
This book is an important reference for the set-up of Ukraine as a U.S./NATO pawn, who was involved, and why things happened as they did.
Of course, this book was published before the "Special Operation" by Russia in Ukraine, but clearly details all the events leading up to the Russian action and has hundreds and hundreds of linked footnotes.
A quick look back: U.S. State Department Neo-con Victoria Nuland hand-picked the head of the Ukrainian government after fomenting a "January 6th" type of revolution in what is called "The Maidan", the seat of government power.
All the time, Nuland and other officials knew they were installing Nazi street-fighters in positions of power. This war began eight years ago, when after the bloody Maidan demonstrations, Crimea slid back into Russian control and a civil war broke out in two eastern regions of Ukraine.
Nationalist Nazis killed an estimated 12-14 thousand ethnic Russians in those regions, leading the Russians to enter and "de-Nazify" the conflict.
There are 21 fairly short chapters, so one can easily push through the information.
I read fairly slowly because I annotate and underline many passages, but this was a fairly quick read.
As stated, it is a very good historical record of the manipulated events which led up to the Russian "invasion", the most serious European conflict since the fall of The Berlin Wall.
Sample chapters include:
A Divided Country
The Return of the Wolfsangel
The Militarization of Maidan
Far Right Regime Change
…
Condoning Corruption
Dismantling Russophone Ukraine
Civil War Darkens the Ukrainian Landscape
Western Military Doctrine and the Normalization of War Crimes
And various other chapters. At over 300 pages with copious chapter end-notes, I consider "Ukraine in the Crossfire" to be an important record of the actual history that led up to the Russian "Special Operation", and lays bare the involvement of the U.S. and NATO.
John Titus