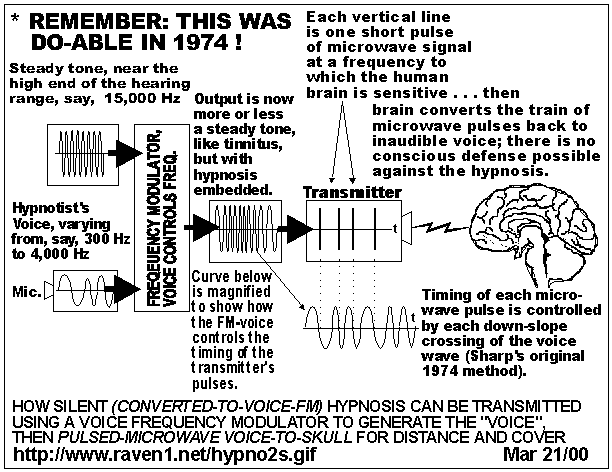 Thanks to our friends at "Our Hidden History" for directing me to this revealing article, which builds on previous work I have done on "voice-to-skull technology". This type of technology can be used to transmit voice, or speech directly into a target's head. This gives a whole new explanation to the recent cases of shooters who say "voices in their head" made them commit violence.
This technology exists, and is even used by advertising companies. For background, refer to my previous article "Recent Shootings And "Voice-To-Skull" Technology" at the link below:
http://www.covertbookreport.com/recent-shootings-and-voice-to-skull-technology/
The above article covers commercial application of the technology, and an example of a shooter who had tried to turn himself into the FBI, saying the government was putting voices in his head to make him join ISIS.
——————————-
And now we turn to a new article in "Wired" that describes military application of voice-to-skull technology:
"Army Yanks 'Voice-To-Skull Devices' Site"
https://www.wired.com/2008/05/army-removes-pa/
(excerpts)
"The Army's very strange webpage on "Voice-to-Skull" weapons has been removed. It was strange it was there, and it's even stranger it's gone. If you Google it, you'll see the entry for "Voice-to-Skull device," but, if you click on the website, the link is dead.
The entry, still available on the Federation of American Scientists' website reads:
"Nonlethal weapon which includes (1) a neuro-electromagnetic device which uses microwave transmission of sound into the skull of persons or animals by way of pulse-modulated microwave radiation; and (2) a silent sound device which can transmit sound into the skull of person or animals. NOTE: The sound modulation may be voice or audio subliminal messages. One application of V2K is use as an electronic scarecrow to frighten birds in the vicinity of airports."
——————————————-
So we know there are commercial applications for this technology (advertising), and that military technology of this type exists. So why take down the Army's webpage?
I would suggest that this is cutting too close to the strange illness that affected US Embassy staff in Cuba and other countries. The latest non-analysis BS is that the mystery vibrations affecting the staff were caused by insects.
Sure.
Something beyond our understanding is being tested on the public.
***
Please visit "Our Hidden History" at this link: