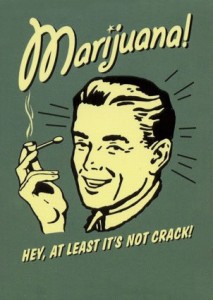 So Thursday I was walking up to our local watering hole and around back three of my buddies were lighting up a joint: It was "inDOPEndence day" in Washington State. Yes, while they were technically in public (which is still illegal) smoking pot is no longer a criminal offense in Washington.
But don't count your brownies to quickly – the new state law (and a similar law in Colorado) are in conflict with federal law, which could crush it's boot-heel on our smoking roaches.
The Obama administration has been noticeably silent on what move it intends to make, as a more enlightened view on the evil weed has drawn more people into the Democratic voter base. I'm sure they're already looking ahead to the mid-term Congressional elections.
Additionally, there has been an appeals case in Federal court (Americans For Safe Access v. DEA) that could bump pot off the schedule 1 drug classification it wrongly shares with heroin and other hard drugs.
Locally, there were huge pot smoking parties right out in public, under the Space Needle for example. Police are now focusing on education instead of incarceration.
But the Feds notwithstanding, there are still some glitches to be worked out. It is still against the law to grow weed without a state-issued license. Nobody knows how the cops will react to backyard growers. It has certainly put an end to the importation of bud from Vancouver Canada, who may soon follow in steps towards legalization also.
On top of that, a lot, and I mean A LOT of folks are pissed that the State has included a blood level limit for pot smokers driving vehicles. We have no idea how that will play out, as pot stays in the body much longer than hard drugs, for example.
So as of this week, Washington State enters a "Brave New World" of pleasurable drug use, with Colorado to follow soon.
Reports of huge convoys of Dead-Head school buses and rasta kids headed toward the state may be exaggerated, we've been here for years already.