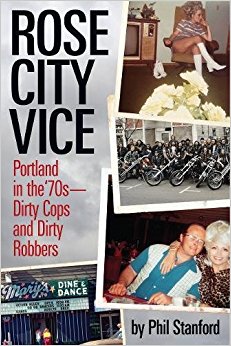 Portland Oregon is known for its granola-weed liberalism, Antifa, and the comic TV series "Portlandia". What it is not generally known for is the KKK, the mob (as identified by attorney general Robert Kennedy), and being "the pornography capital of the west coast".
In "Rose City Vice – Portland in the '70's; Dirty Cops and Dirty Robbers" , investigative reporter Phil Stanford has perfectly captured the scandalous and corrupt Portland I remember from my misspent youth. I met Stanford briefly several times while working with my editor, friend and mentor Ace Hayes at The Portland Free Press. Stanford was a top-notch journalist for The Oregonian newspaper and has a great nose for sniffing out scandal. In Rose City Vice he has produced a tabloid-style examination of urban outlaws, good sex and bad cops. As Stanford demonstrates, they are all interconnected, rising from street-level dealers and thugs to the mayor and future governor of the state, Neil Goldschmidt.
In high school and later, we would drive past "Bill's Gold Coin", a swanky rounded bar known for prostitution, and down the street "Ginger's Sexy Sauna" – a legend in it's own time. Porn stores were all over town, the biker gangs struck fear, and unsolved murders were the staple of a city that fronted as a clean environmental gem.
Stanford details the exploits of a corrupt narcotics bureau that resells captured drugs and the few good cops who tried to expose them. This included a failed raid on The Outsiders motorcycle clubhouse, where cops in street clothes busted in and tried to plant drugs during the confusion. The bikers shot one cop dead, and at the time I remember there was a surprising amount of sympathy for the Outsiders, who claimed the raid was unannounced and the cops were dressed much like a rival gang.
Stanford drifts us through the careers of beautiful madame's such as "The Duchess", and Ginger (of sauna and porn store fame) who smartly went legit. He details the heroic crusade of former prosecuting attorney Des Connall and former chief homicide detective Earl Son who, in private practice tried to bring down the crooked cops. Connall's law firm collapsed and Earl Son was found shot to death. Connall died at his sisters house in North Dakota.
Almost all the bad guys are complete screw-ups, and the cops aren't much better. The exception is the wily "Ginger", who constantly changes her business model to stay one step ahead of the vice squad.
So many familiar names pop up, those of hit men, drug financiers, and dirty politicians. A good flow chart would connect many of them together.
In Phil Stanford's "Rose City Vice", the blush is off the Rose.
– John Titus