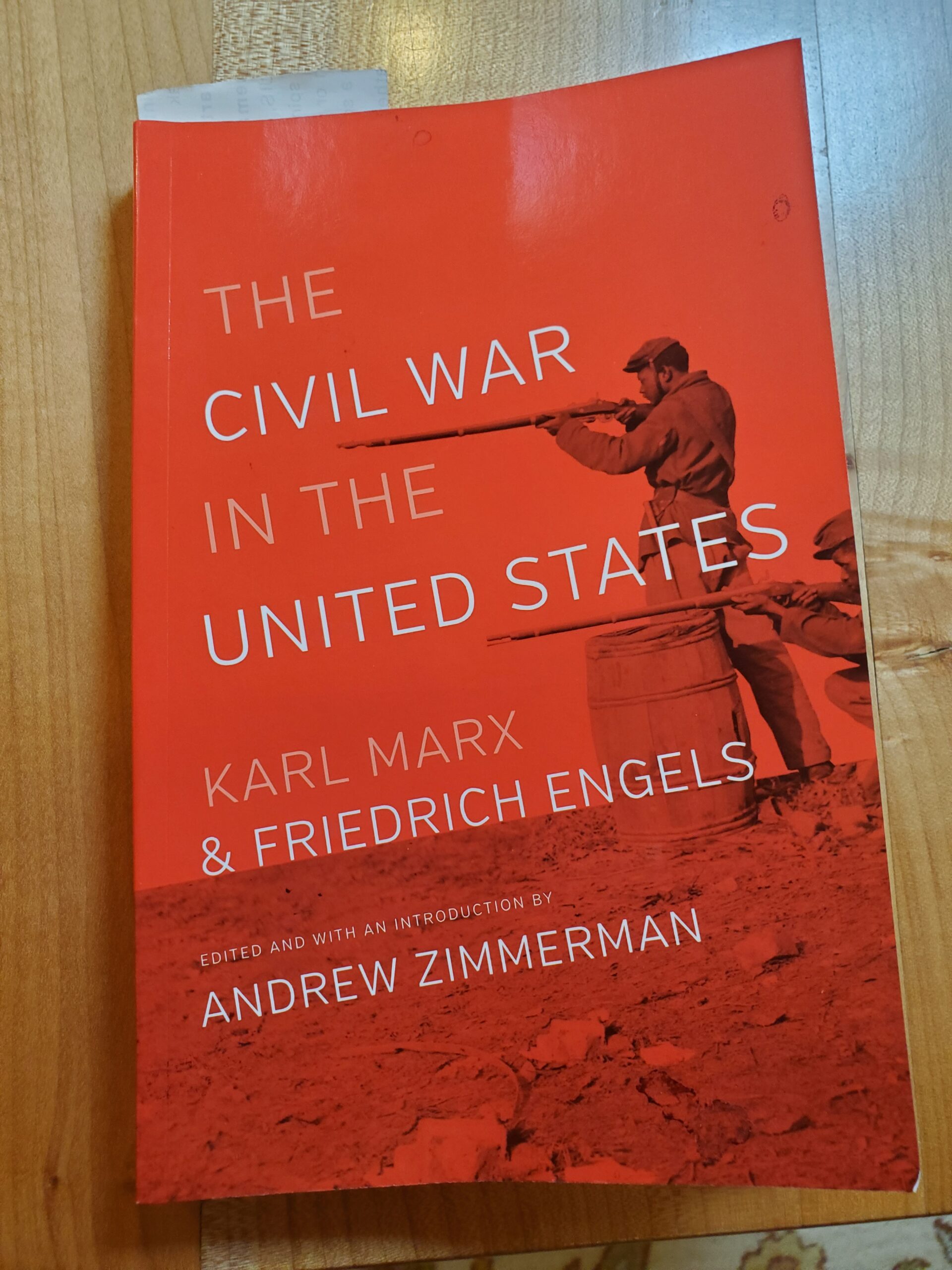 I should start by saying that this is the first I have read of Marx, and honestly I haven't studied deep into the American Civil War, so this book was very interesting to me.
The book consists of written exchanges between Karl Marx and Friedrich Engels, with a few others. It also includes passages from articles that were published during the war.
This interesting window into revolutionary thought was edited (and I believe translated) by Professor Andrew Zimmerman of George Washington University in Washington D.C.
Zimmerman also provides a brief analysis at the beginning of each topic or chapter, which helps to put complicated thought into readable/understandable context.
As Zimmerman explains, Marx in particular had great faith that the American Civil War was a truly revolutionary act. Marx mirrored the freeing of the slaves with the rights of working people everywhere, and he may not have been far from the truth.
Yet within his embrace of the abolition of slavery as a revolutionary act, Marx balances that against the knowledge that London mercantile interests had meddled in supporting the South.
This of course, was due to the cotton trade, which had begun to slow in various British colonies.
Marx identifies and names Union officers that he considers traitors. Marx points to McClellan repeatedly as a traitor, and it is true that Lincoln and McClellan had a healthy distrust of each other.
Lincoln even conducted his version of "Night of the Long Knives", in one case arresting General Stone as he slept at his home at 2am.
Marx doesn't hide his contempt for what he calls "Southern White Trash", who he identifies as non-landholding southern whites. The same people were resented by the plantation owners as being lesser individuals. The book clearly draws connections between the mercantile class and investors in London with the southern plantation owners, and while European news carried praise for the end of slavery, it was merely lip service. The machinery of the textile industry was hungry for raw materials, and the South provided with free labor.
The book provides evidence that Marx and perhaps Engels were aware of a vast conspiracy to take down Lincoln.
Additionally, we see that Engels was quite a military historian who demonstrates insightful analysis to movements on the fronts.
In all, I learned quite a bit from this book. The analysis provided by Professor Zimmerman provides much needed context for the exchanges and articles that are reproduced. It is also clear that Marx identifies the obvious connection between the abolition of slavery with the condition of working people everywhere.
A great little book, I highlighted many many passages of interest and got my first big dose of Marx and Engels. Definitely worth a read for those interested in the Civil War, Marxism, and the abolition of slavery.
– John Titus