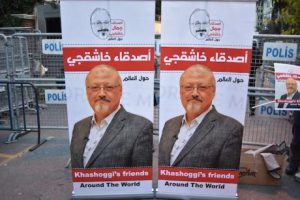 The brutal murder of journalist Jamal Khashoggi and subsequent cover-up attempt by the Saudi's is gradually being revealed to have been linked to 9/11.
In October I questioned if Khashoggi was murdered due to his knowledge of the planning and financing of the 9/11 attacks:
Mood of Alabama explains a lot here:https://t.co/QwuR7h58t5

But I can't help but wonder if Khashoggi (close to Saudi Intelligence) had knowledge of Saudi/Israeli/Cheney involvement in 9/11.

Next up? US shifts full (false) blame of 9/11 to Saudi's for invasion (oil grab)

— covert book report (@Covertbook) October 15, 2018
My speculation was primarily due to Khashoggi's close relationship with both Osama bin Laden and Saudi intelligence services.
Several days later Intel Today suggested the hit may have been connected to 9/11:
Ok, it it's beginning to look like the CIA wanted Khashoggidead also.
It's the only thing Trump and the CIA agree on…https://t.co/HSxKLRO281

— covert book report (@Covertbook) October 18, 2018
"In the past Mike Morell has argued that the 9/11 '28 pages report' did not implicate Saudi government officials. Today, we know that it does. I would like to suggest that Jamal Khashoggi may have known a few things about 9/11. Stay tuned…"
———————————-
Now it is becoming clear that Khashoggi had crossed both the Saudi royal family and western intelligence services tasked with the 9/11 cover-up. Here's a couple of absolutely stunning articles; the first excerpt was written by "Jersey Girl" and 9/11 family activist Kristen Breitweiser.
Breitweiser and her group of activists have continued to push back against the suppression of facts regarding the 9/11 attacks. Here's an excerpt of her recent article:
Jamal Khashoggi: Where The Road to Damascus & The Path to 9/11 Converge
https://www.zerohedge.com/news/2018-10-17/jamal-khashoggi-where-road-damascus-path-911-converge
(Excerpt, embeds at link)

"… it details very clearly and specifically why and how Jamal Khashoggi knew so much about al Qaeda, the CIA, the Saudis, and much of the financing, funding, and organizing of Bin Laden that led to the 9/11 attacks. http://www.chicagotribune.com/news/chi-0402220496feb22-story.html"
**
"Also, please note that in one of the leading books written about the 9/11 attacks, Lawrence Wright's, "The Looming Tower," Jamal Khashoggi is portrayed by Wright as a "friend" of Bin Laden. Khashoggi is not a "journalist" who reports on bin Laden. Rather he is described as Osama Bin Laden's friend. And the Bin Laden/Khashoggi friendship apparently spans more than a decade—from Afghanistan, to Pakistan, to the Sudan.
In addition, also note that Jamal Khashoggi was closely connected to Prince Turki al Faisal. Prince Turki was the head of Saudi intelligence for more than 20 years. Interestingly, he resigned from his post 10 days before 9/11. Probably more interestingly, Turki is the man who allegedly brokered the deal with Bin Laden back in 1998 where, in exchange for money and support, Bin Laden would not attack the Saudi Royal Family. http://www.freerepublic.com/focus/f-news/563318/posts Some believe that this agreement paved the way for the 9/11 attacks and various intelligence agencies around the globe "looking the other way" or "turning a blind eye" to al Qaeda's actions in the lead up to 9/11. http://historycommons.org/entity.jsp?entity=turki_bin_faisal_bin_abdul_aziz_al_saud Notably, Prince Turki al Faisal was also one of the first named defendants in the 9/11 Families' litigation. https://www.theguardian.com/world/2003/mar/02/september11.politics He was dismissed from the case years ago due to grounds of sovereign immunity.
Moreover, Jamal Khashoggi was also closely connected to Prince Alaweed bin Talal who was held at the Ritz Carlton Hotel last year by Saudi Crown Prince Mohammed bin Salman. Additionally, reporting also links Talal to the 9/11 attacks. https://www.telegraph.co.uk/news/worldnews/middleeast/saudiarabia/11390705/Saudi-princes-supported-al-Qaeda-before-911-claims-twentieth-hijacker.html and https://www.nytimes.com/2015/02/05/world/middleeast/pre-9-11-ties-haunt-saudis-as-new-accusations-surface.html and https://www.bloomberg.com/news/features/2018-03-20/alwaleed-reveals-secret-deal-struck-to-exit-ritz-after-83-days
Finally, there is Khashoggi's family connection to Adnan Khashoggi, the notorious Saudi arm's dealer at the center of the CIA's Iran-Contra fiasco back in the 80's. https://www.independent.co.uk/news/long_reads/adnan-khashoggi-dead-saudi-arms-dealer-playboy-pleasure-wives-billionaire-lifestyle-wealth-profit-a7778031.html"
**
"In a time when news lasts about as long as a minute, why has the story of Jamal Khashoggi dominated headlines for more than a week? Was Jamal Khashoggi ever questioned by the FBI at any time before or after the 9/11 attacks? If not, why not? Was Jamal Khashoggi ever employed by the CIA? Was Jamal Khashoggi ever deemed an asset of the CIA? When did Jamal's employment for Saudi intelligence come to an end? Was Jamal Khashoggi a joint asset between the GIA and the CIA? Did Jamal Khashoggi ever have any contact with the 9/11 hijackers or anyone in the support network of the 9/11 hijackers inside the United States? And, why did it take 15 Saudi assassins to kill Jamal Khashoggi? Doesn't that seem a bit like overkill? And, is it just a coincidence that there were 15 Saudi hijackers on 9/11? Why would Jamal Khashoggi willingly go to the Saudi Consulate in Turkey—especially given his alleged sour relationship with Crown Prince Mohammad bin Salman? What would inspire him to go there? And what was the entreaty MBS allegedly made to Jamal more than one month ago about anyways? Was it made in earnest? What was Jamal Khashoggi really doing at the Saudi Consulate in Istanbul?"
Please go to the link above to read the entire article and access the links embedded.
———————————–
And now we look at excerpts from "Did The US And Britain Collude In The Murder Of Jamal Khashoggi?"
by Nafeez Ahmed
https://www.opendemocracy.net/north-africa-west-asia/nafeez-ahmed/did-us-and-britain-collude-in-murder-of-jamal-khashoggi
(Excerpts)
"…Khashoggi happened to work for a man at the heart of some of the issues I had been investigating: he was a media aide to Prince Turki al-Faisal, then Saudi Ambassador to London and later Washington, and previously Saudi intelligence chief for 25 years before he abruptly left the post just prior to the 9/11 attacks."
**
"The NSA was closely monitoring the operation, which saw hundreds of millions of dollars channelled to bin Laden through philanthropic activity. As I previously reported for Middle East Eye, US, British, German and French intelligence were intimately familiar with the Saudi funding streams to al-Qaeda militants, many of which also had direct ties to MBS' father, the incumbent King Salman. These intelligence agencies had concluded that in the 1990s, Salman controlled with an "iron fist" the key financial operations of a range of charities (such as the Saudi High Commission, the Third World Relief Agency and the International Islamic Relief Organisation) which had been found systematically diverting hundreds of millions of dollars to al-Qaeda militants. Several 9/11 hijackers had trained in camps funded by this cash.
By some accounts, Prince Turki al-Faisal's relationship with bin Laden continued up to 9/11. According to the French daily Le Figaro, French intelligence sources claimed that two months before 9/11, bin Laden was flown to the American hospital in Dubai for kidney treatment under Prince Turki's patronage, where the al-Qaeda chief met CIA officials."
**
"…Khashoggi himself played a direct role in Prince Turki's shenanigans, having befriended bin Laden in the 1980s. Though he disavowed bin Laden's turn to terrorism, as veteran Middle East reporter John R. Bradley points out, it was Khashoggi himself who had been "employed by the Saudi intelligence services to try to persuade bin Laden to make peace with the Saudi royal family." Khashoggi was "the only non-royal Saudi who had the beef on the royals' intimate dealing with al Qaeda in the lead-up to the 9/11 attacks."
"The Washington Post has interviewed a US intelligence source who confirms that US intelligence knew of the Saudi plan to capture Khashoggi and extradite him back to Saudi Arabia, picked up via electronic intercepts of communications between Saudi officials. It wasn't clear whether there was intelligence available that Khashoggi might be harmed, in which case there would have been a duty to warn him. Nevertheless, the intelligence was disseminated throughout the US government and was contained in reports that are routinely available to people working on US policy toward Saudi Arabia."
——————————————
And finally, this article from ABC News:
Congressman Claims Kushner Gave Saudi Prince "Hit List" Including Missing WaPo Columnist
https://abcstlouis.com/news/nation-world/congressman-claims-kushner-gave-saudi-prince-hit-list-including-missing-wapo-columnist
"WASHINGTON, D.C. — A Democratic congressman accused President Trump's son-in-law and White House Senior Advisor Jared Kushner of giving a "hit list" to the crown prince of Saudi Arabia that resulted in the alleged death of Jamal Khashoggi, a Saudi national who has been living in the U.S. for several years and writing columns for the Washington Post.
Rep. Joaquin Castro, a Democrat representing a district in Texas, made the claim on CNN Friday morning of unspecified "reporting that Jared Kushner may have, with U.S. intelligence, delivered a hit list, an enemies list, to the crown prince, to MBS, in Saudi Arabia and that the prince may have acted on that, and one of the people he took action against is Mr. Khashoggi."
—————————————-
So now we see that Khashoggi was tied to both US and Saudi intelligence.
He knew the funding mechanisms for Islamic fighters.
He was an associate of Bin Laden.
He was becoming politically active with the Muslim Brotherhood against the royal family.
Jared Kushner gave the Saudi Prince MBS a hit list and Khashoggi's name was on it.
US and British intelligence knew of his pending kidnapping and murder – and let it happen.
A lot of people wanted to keep Khashoggi quiet.
-John Titus