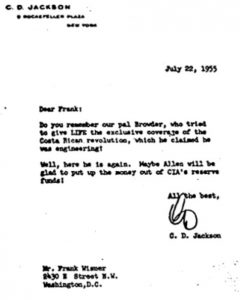 Let's take a dive into some informed speculation; Was Earl Browder, the former head of the Communist Party in the United States on the CIA's payroll?
Earl Browder is also the grandfather of Bill Browder, a renegade financial scammer that fled Russia and the US to avoid taxes. He now resides in London.
Bill Browder is also the cats-paw currently clawing at Russia through sanctions brought by "The Magnitsky Act". See my article "Bill Browder Of The Magnitsky Act Is No Hero":
http://www.covertbookreport.com/bill-browder-of-the-magnitsky-act-is-no-hero/
Back to the document above; researcher Lisa Pease posted this to Twitter, and in a brief exchange we bounced a few ideas around concerning the name "Browder" listed in the document.
The document was written by C.D. Jackson to Frank Wisner of the CIA. Jackson is one of those "behind the scenes" manipulators of cold-war politics. From the overthrow of Guatemala to shelving "The Zapruder Film" of the Kennedy assassination, C.D. Jackson was meddling behind the scenes.
Here is a good review of a recent biography of C.D. Jackson:
John Allen Stern, C.D. Jackson: Cold War Propagandist for Democracy and Globalism
Written by Michael Le Flem
https://kennedysandking.com/reviews/john-allen-stern-c-d-jackson-cold-war-propagandist-for-democracy-and-globalism
In the document, Jackson writes to Frank Wisner of the CIA. Wisner was a long-time covert operator and they are discussing an individual named "Browder". Jackson, who ran "Life" magazine, refers to "Our pal Browder", who was involved in creating a revolution in Costa Rica. Let's take another look at the document: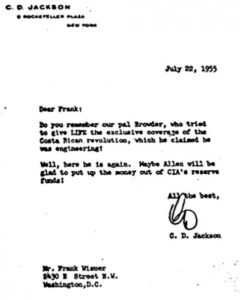 Credit: Lisa Pease
Browder, Browder, Browder…Well, here we go: Earl Browder was indeed involved in revolutionary movements in Central America:
Costa Rica, The Comintern, Browder and "Browderism" : citation 22https://t.co/Ug5nDPIHMS

— covert book report (@Covertbook) September 3, 2018
It appeared that Browder had contacted "LIFE" magazine again for an unknown reason, and Jackson jokes to Wisner that "Maybe Allen will be glad to put up money out of CIA's reserve funds!"
"Allen" refers to Jackson and Wisner's good friend and head of the CIA, Allen Dulles.
———————————————–
If the individual named as "Browder" was indeed Earl Browder of the Communist Party USA, is it possible they are not joking; that Browder may have at times recieved money from CIA slush funds?
Could Earl Browder have been a cats-paw for the CIA like his grandson Bill Browder (Magnitsky Act) is a cats-paw for US foreign policy? Was the American Communist Party infiltrated and partially funded by the CIA?
Thanks to researcher Lisa Pease for posting the document and entertaining my comments and questions.